How would you rate your visibility into future Support demand?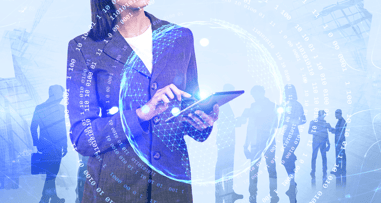 As you navigate from Q1 through Q4 of 2021 and into 2022, your understanding of how demand for Support will change is critical to planning, both short-term and long-term. Drawing from extensive research we recently conducted and published, here's our 2021 Support demand forecast. Read on and see how it aligns with your perspective.
First, a quick look back at Support demand in 2020.
Before we break down our 2021 Support demand forecast, we'd do well to take a quick look back (especially after a 2020 that no one could have forecast). From 2019 to 2020, overall Support demand grew by 10.6% across the technology services industry despite (or owing to) the global pandemic and disruption to normal business operational practices. Not every company experienced growth during this period: 11% of companies indicated a contraction in demand and 27% reported no change.
For companies that reported growing Support demand, the increase was attributed to adding more customers (60%), followed by higher user adoption of product features (50%) and more proactive outreach by Support (41%). This data tells us that companies that proactively engage customers and encourage product use and adoption will likely increase demand at a rate beyond what would normally be attributed only to adding more customers.
Change to Overall Support Demand 2019 to 2020
Higher Support Demand from More Proactive Engagement
2021 Support demand forecast (and looking beyond).
According to Gartner's Worldwide IT Spending Forecast, the overall IT industry is forecast to grow by 4% in 2021, with some sectors of course projected to be stronger than others. From this statistic it's a safe assertion that increases in Support demand will follow. However, we can also expect demand to vary at the individual company level based on:
The strength of new product sales
The intensity of proactive customer engagement and retention activities
Efforts to mitigate demand.
In other words, changes in support demand for individual companies will be influenced less by macro-IT spending trends and more by company-specific initiatives to drive new sales and retain existing customers.
Keeping all this in mind, the following chart suggests how support demand may change in 2021 and into 2022:
Support Demand Forecast
Factors that influence Support demand
The rise and fall of Support demand can reflect both positive and negative performance indicators for companies. Rising support demand from increased sales are likely to be considered positive while lower support demand resulting from high churn is a negative indicator. As you create your plan to address the dynamics of Support demand in your organization, we recommend that you consider the following factors:
High Support demand growth influencers
Factors that contribute to high growth in Support demand include:
Aggressive sales and marketing initiatives to bring on new customers
Changes to products that introduce more complex capabilities
Reduced product quality
Efforts to reduce churn and retain more customers
Initiatives to encourage customers to increase product adoption and use
Little to no effective efforts to prevent support demand or increase customer self-sufficiency
Sustained Support demand influencers
Factors that contribute to sustained Support demand include:
Moderate growth in customer base
Initiatives to reduce support demand through self-help, improved product quality, and enhanced customer training
Declining Support demand influencers
Factors that contribute to a reduction in Support demand include:
Loss of customers (churn)
Customer disengagement—they own the product but use it less.
Product performance and/or usability improvements
Efforts to build customer product proficiency
Effective self-help initiatives
Proactive and preventive care to reduce support issues
Conclusion and recommendations
While it is essential to understand how Support demand will change in the year ahead, leaders must always keep their fingers on the pulse of Support demand if they expect to remain prepared to respond to customer needs. Factors that influence support demand may be tied to specific Support initiatives or originate beyond the control of Support—that is, within Sales, Success, Marketing, or Product Development groups.
As you take on the necessary work of Support demand forecasting, consider the following recommendations:
As you take on the necessary work of Support demand forecasting, consider the following recommendations:
Establish a realistic forecast for new Support demand based on Sales projections.
Examine your company's product road map to identify any product changes that will increase customers' need for Support.
Project the effect of Support and Customer Success initiatives that promote increased product use and adoption.
Forecast the effect of customer churn.
Forecast the effect of efforts to reduce or mitigate support demand through self-help and prevention initiatives.
Make your plan to meet the Support demand in your organization – ServiceXRG can help!
ServiceXRG provides coaching and guidance to help companies maximize customer value through better Support performance. Contact ServiceXRG anytime to set up an initial assessment of your Support planning needs. Interested in learning more? E-mail CEO & Founder of ServiceXRG, Tom Sweeny or click on his calendar to schedule a specific time.
Keep Reading
Want more? Here are some other blog posts you might be interested in.